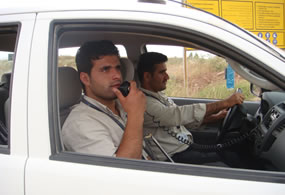 International jobs
At GardaWorld we only employ highly qualified and technically proficient staff to serve our clients. We believe that people are our most important asset, and that is why we are one of the most trusted security services companies in the world. A career at GardaWorld will allow you to work in unique locations across the globe on exciting and challenging projects, for a wide variety of clients. We foster an open, cooperative and dynamic working environment that promotes mutual respect and encourages career growth and advancement within the organization.
Click on www.garda-world.com/careers and join the team.
GardaWorld an employer of choice.
Results 1 – 13 of 13
Page 1 of 1
Search results for "".
Title
Location
Date
Experienced Drivers - Afghanistan - Australian Nationals - Start TBC Job

Kabul, Afghanistan, Afghanistan

Oct 19, 2017

Legal Counsel - Kenya Job

Nairobi, Kenya, Kenya

Oct 19, 2017

Director, Haiti Job

Port-au-Prince, Haiti, Haiti

Oct 18, 2017

Site Manager - Afghanistan - Start Date TBC Job

Kabul, Afghanistan, Afghanistan

Oct 17, 2017

Manager, Compliance and Assurance Job

London, UK, UK

Oct 13, 2017

Static Security Guard Commanders - Kabul, Afghan - Australian Nationals Job

Kabul, Afghanistan, Afghanistan

Oct 13, 2017

Managing Director, Kenya Job

Nairobi, Kenya, Kenya

Oct 13, 2017

Finance Director, Kenya Job

Nairobi, Kenya, Kenya

Oct 10, 2017

Consultant Opportunities - Security Professionals (Mandarin Speakers) Job

Dubai, UAE, Uae

Oct 9, 2017

PPO with FPOS for Iraq, Basra, Baghdad, Badra. Starting ASAP (Upon receipt of visa) Job

Basra, Iraq, Iraq

Oct 2, 2017

Libya - Experienced Risk Analysis Manager, October 2017 Job

Tripoli, Libya, Libya

Sep 29, 2017

Project Manager Job

Nairobi, Kenya, Kenya

Sep 23, 2017

CP/Medic - MENA - Sept 2017 Job

Tripoli, Libya, Libya

Sep 21, 2017
Results 1 – 13 of 13
Page 1 of 1