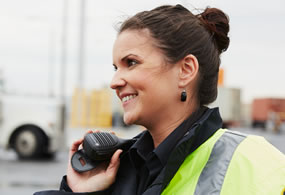 Special events jobs
The special events industry is a very thrilling environment that requires people who can adapt to last-minute changes and who can handle unpredicted situations in a professional and firm manner. BEST – part of the GardaWorld team – recruits lots of part-time staff for summer missions during events such as Formula 1, the "Bal en Blanc," boxing matches, Fashion Week and the Grey Cup. You will be working in a dynamic team and will get to know the industry. If you are available, dynamic and in good shape, we need you!
Join our Talent Community to receive updates about our positions.
GardaWorld an employer of choice.

There are currently no open positions matching this category or location.
Receive emails by subscribing to jobs matching Special events jobs when they are posted.
The 10 most recent jobs posted by GardaWorld are listed below for your convenience.
Results 1 – 10 of 10
Page 1 of 1
Search results for "".
Title
Location
Date
Employee Engagement Manager Job

Toronto, Ontario, Canada

Jul 24, 2017

Cash Services Messenger -Part Time (Winnipeg) Job

Winnipeg, Manitoba, Canada

Jul 24, 2017

Business Development Manager - Protective Services Job

Toronto, Ontario, Canada

Jul 24, 2017

Full Time & Part Time Security Guards For Langley Job

Langley, British Columbia, Canada

Jul 24, 2017

Directeur qualité Job

Montreal, Quebec, Canada

Jul 24, 2017

adjoint(e) au recrutement Job

Montreal, Quebec, Canada

Jul 24, 2017

Experienced Drivers - Afghanistan - Australian Nationals - Start TBC Job

Kabul, Afghanistan, Afghanistan

Jul 24, 2017

Full Time Administrative Security Guard Position - Downtown Toronto Job

Toronto, Ontario, Canada

Jul 24, 2017

Part - Time Security Officer - French Speaking Job

Winnipeg, Manitoba, Canada

Jul 24, 2017

Security Professional - North Bay Job

North Bay, Ontario, Canada

Jul 22, 2017