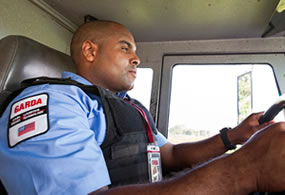 Part-time jobs
We offer part-time and full-time positions in an open, cooperative and dynamic working environment that promotes mutual respect. If you would like to pursue a career at GardaWorld, the leading privately owned provider of business solutions in the world, know that we encourage growth and advancement within the organization.
Join our Talent Community to receive updates about our positions.
GardaWorld an employer of choice.
Search results for "". Page 1 of 3, Results 1 to 25 of 68
Title
Location
Career Area
Date

Armed Guard

Victoria, British Columbia, CA

Armed Guards & Cash Processors

Nov 20, 2023

Armed Guard

Terrace, British Columbia, CA

Armed Guards & Cash Processors

Nov 17, 2023

Armed Guard

Regina, SK, CA

Armed Guards & Cash Processors

Nov 17, 2023

Armed guard

St. John's, Newfoundland, CA

Armed Guards & Cash Processors

Nov 26, 2023

Armed Guard

Lethbridge, AB, CA

Armed Guards & Cash Processors

Nov 26, 2023

Armed Guard

Winnipeg, MB, CA

Armed Guards & Cash Processors

Nov 22, 2023

Armed Guard

Comox, CA

Armed Guards & Cash Processors

Nov 23, 2023

Armed Guard

Charlottetown, Prince Edward Island, CA

Armed Guards & Cash Processors

Nov 14, 2023

Armed Guard

Nanaimo, British Columbia, CA

Armed Guards & Cash Processors

Nov 25, 2023

Armed Guard

Victoria, British Columbia, CA

Armed Guards & Cash Processors

Dec 1, 2023

Armed Guard

Red Deer, AB, CA

Armed Guards & Cash Processors

Dec 3, 2023

Armed Guard

Grande Prairie, AB, CA

Armed Guards & Cash Processors

Dec 2, 2023

Armed Guard

Thunder Bay, ON, CA

Armed Guards & Cash Processors

Nov 17, 2023

Armed Guard

Medicine Hat, AB, CA

Armed Guards & Cash Processors

Nov 25, 2023

Armed Guard

Saskatoon, SK, CA

Armed Guards & Cash Processors

Nov 17, 2023

Armed Guard

Halifax, Nova Scotia, CA

Armed Guards & Cash Processors

Dec 9, 2023

Armed Guard

Edmonton, AB, CA

Armed Guards & Cash Processors

Dec 9, 2023

Armed Guard

London, ON, CA

Armed Guards & Cash Processors

Nov 21, 2023

Armed Guard

Brandon, MB, CA

Security Guard

Dec 10, 2023

Armed Guard 1

Montréal, Quebec, CA

Armed Guards & Cash Processors

Nov 22, 2023

Armed Guard 1

Mississauga, ON, CA

Armed Guards & Cash Processors

Dec 10, 2023